Clear is the only company that offers its customers a personalized and verified WhatsApp account to send automated messages. Find out how this benefits your business.
Manually answering hundreds of messages to book or change appointments, send reminders or answer frequently asked questions is totally inefficient: Customers wait hours to be served and you need to be on your cell phone all day.
Clear allows you to interact with your potential customers through a Chatbot that helps you to automatically answer the most frequently asked questions from your customers or send automated WhatsApps to confirm appointments. in seconds and without the need for you to spend time manually replying to these messages, all from your own personalized and verified WhatsApp account.
When automated messages are sent from non-personalized accounts, customers become distrustful and this causes them not to respond or even read them and the channel ceases to be effective.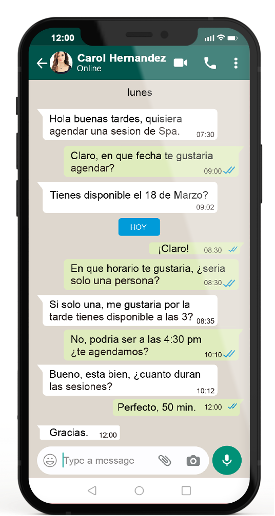 Schedule a free demo and learn about all the benefits of Clear for your business.